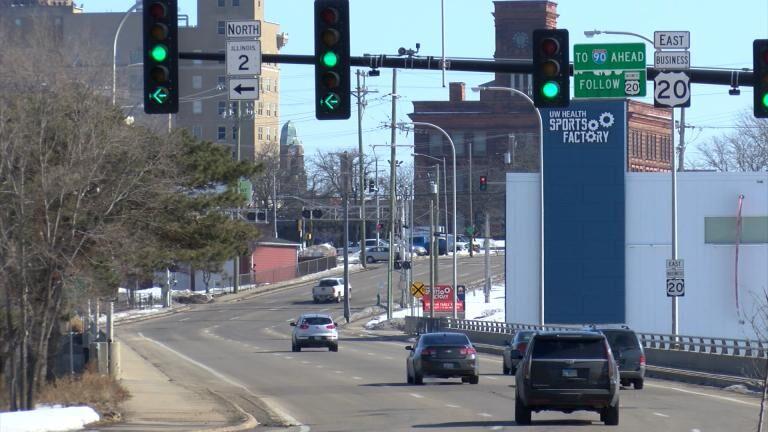 WASHINGTON D.C. (WREX) — Rockford's investment in infrastructure is gaining momentum. The Forest City will receive more than $16 million in federal grant money for the city's complete streets revitalization project.
U.S. Senators Tammy Duckworth and Dick Durbin made the announcement Tuesday.
The RAISE Grant will help fund the reconstruction of Chestnut and Walnut streets in downtown Rockford as part of the city's efforts to modernize and improve downtown roadway infrastructure that currently limits connectivity in the central business district and slows redevelopment opportunities.
"Business 20 was set up for that industrial use downtown. For three lanes wide, split pairs in one-way," said Region 1 Planning Council Executive Director Michael Dunn. "It really now is being converted to residential."
The need for less one-ways and easy bike-able and walkable access grows and the funding will go towards improving and enhancing the look of these systems.
The funding, $1.9 million to be exact, will also be used to procure three all electric buses at Rockford's Mass Transit District.
"These all electric vehicles will definitely align us toward getting our fleet converted to fully electric clean emission vehicles by 2036," said RMTD Marking and Communications Manager Lisa Brown.
The three clean buses will add to its almost 15 hybrid electric buses currently in its fleet. The move makes a stride towards safe transportation and sustainability.
Brown says RMTD is looking into other funding opportunities for its charging infrastructure to accommodate its growing electric fleet. That's because the funding didn't allocate for charging stations.
These new buses will also have a new route to take. The Circulator Route will is also a part of the project. The Circulator Route will run on a consistent basis hoping to help low income families gain easy access to downtown resources.
"Once they are downtown, they can do other activities as well. Go to classes, get some lunch, maybe do some shopping and go home. Do some banking, go to court and then go home. So anytime you can provide public transportation for everyone is a good thing," said Brown.
"A lot of people are disabled and that would benefit a lot of us too," said Rockford resident and frequent RMTD rider Tanya Williams when talking about the new loop-like route.
"Improving and modernizing downtown Rockford with this federal funding will help residents and businesses owners throughout the area while supporting good-paying local jobs," Duckworth said.
"This federal funding will be a tremendous boost to Rockford by better connecting families to work, school, and recreational opportunities downtown. I'm especially pleased this funding will support clean and reliable transportation infrastructure, including electric buses," Durbin said.
"There are a lot of things I have to do downtown and a lot of places I have to go outbound so that would help a lot," said Williams.
The federal grant award comes through the U.S. Department of Transportation's (DOT) Rebuilding American Infrastructure with Sustainability and Equity (RAISE) grant program, which invests in state, local, multi-modal and multi-jurisdictional road, rail, transit and port projects that economically empower communities, update infrastructure and create good jobs.
The project are expected to be completed within the next five years.