ROCKFORD (WREX) — Mild conditions return in time for holiday travel as temperatures are expected to drop into tomorrow.
Briefly mild: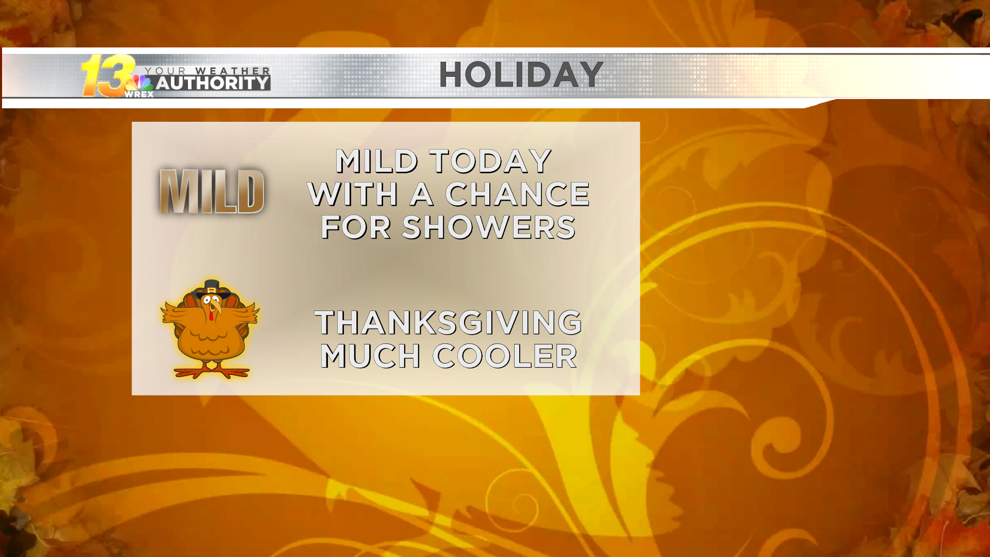 Temperatures throughout the first half of the week have been on the rise only to lead us to a warm Wednesday. 
Early this morning temperatures already felt slightly warmer with many spots hanging on to the middle to upper 30's. Mostly cloudy skies can be seen early and will likely remain for today even into the holiday. 
This afternoon will see temperatures climb into the lower to middle 50's as mild air finally reaches us. It doesn't stick around for too long. Along with warmer temperatures, breezy conditions are also likely this afternoon with winds gusting up to 30 miles per hour. 
The evening and overnight hours bring a slight chance for scattered showers with a majority of the rain stay south of I-88. If you're traveling south, you may run into some light rain or wet roads.
Mostly cloudy skies will remain overwise with temperatures dropping back into the middle 30's. A cold front will push out the milder air leaving us with upper 30's for Thanksgiving.
Thanksgiving:
With a warm Wednesday expected, a cold front will drop temperatures for the holiday.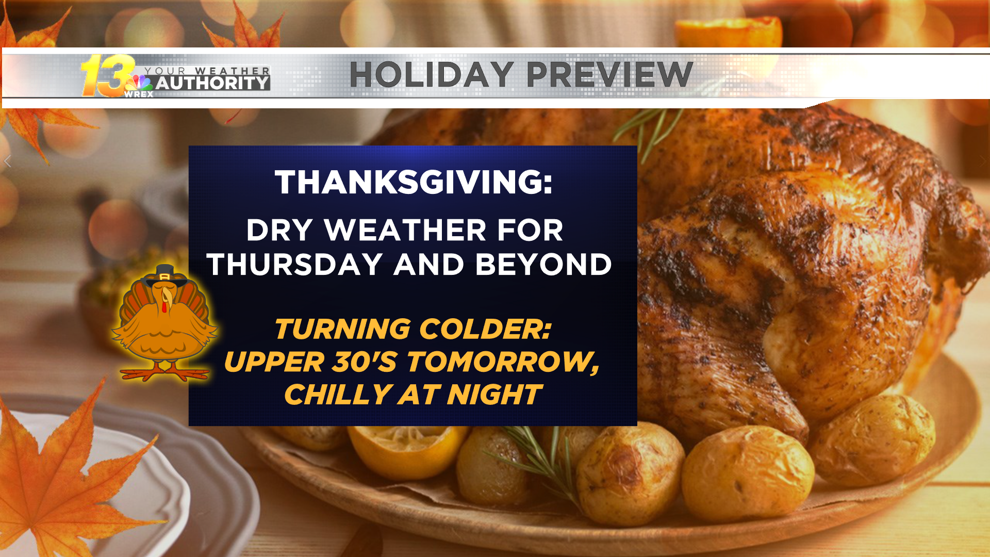 Tomorrow highs are only expected to climb into the upper 30's with breezy conditions remaining. With a colder day, temperatures for the overnight hours will drop into the teens heading into Friday morning. 
We stay on the cooler side of things through the end of the week as temperatures warm back into the lower 40's for the weekend. 
Dry stretch:
After the holiday, we set in to a dry stretch of weather. 
With a slight chance for showers on Saturday, a majority of our forecast remains dry as we head into the first week of December. 
Temperatures will also be slightly above average with a chance to see another 50-degree day in the extended forecast.