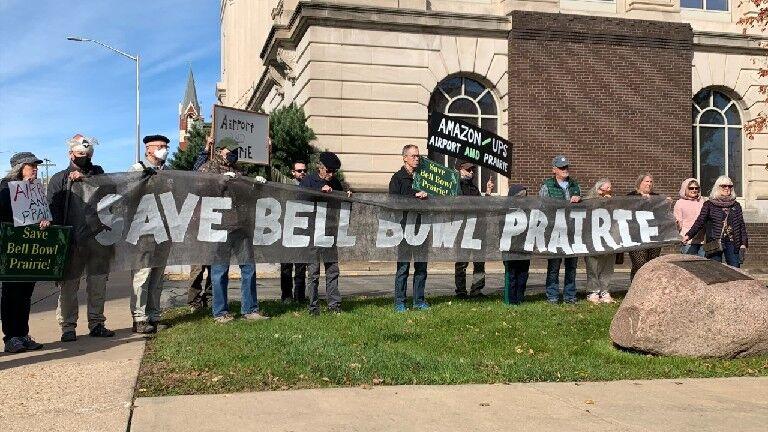 ROCKFORD (WREX) — A group of environmental advocates and local residents announced litigation in an an effort save an 8,000 year old prairie, the Bell Bowl Prairie.
"We are really trying to reach out and have a dialogue and there's been silence," said Natural Land Institute Executive Director Kerry Leigh. "We have been managing this prairie with all of our partners since the 70s. People love this place."
Natural Land Institute filed a lawsuit against the Greater Rockford Airport Authority for injunctive relief to temporarily halt the bulldozers from destroying the remnant prairie on Nov. 1.
"We can no longer continue to call ourselves the Prairie State if we don't do everything we can to save Bell Bowl Prairie," said Illinois Environmental Council Conservation Director Lindsay Keeney.
"Extinction is forever. We have a piece down there that can not be replicated, that can not be moved. Our goal is to have it stay so those plants, animals and insects can all continue to survive," said Sierra Club, North West River Valleys Group, Co-Chair Steven Hall.
The NLI says it also hopes to allow time for the airport to take a second look and adopt an alternative project design that preserves the prairie and conduct additional environmental assessment of this irreplaceable natural landscape.
"The company that actually did the assessment said they only did a cursory assessment and that further assessment was needed and necessary and they never did that," said Leigh. "The action we are taking today would allow for this ancient prairie, a special place that has captured the hearts of so many Americans across the state and the country, to continue providing habitat to endangered species, and not be destroyed for the construction of a parking lot. Why is an ancient prairie expendable, and a parking lot so precious?"
Supporters of the legal action are calling for the adoption of an alternative project design that would preserve the Bell Bowl Prairie as well as the anticipated airport services and jobs connected to the project.
A temporary halt of construction would allow more time for community input and the identification of such a solution in partnership with the Greater Rockford Airport Authority, the Federal Aviation Administration, the Illinois Department of Transportation and other local decision makers.
The Rockford Airport's current construction on the Bell Bowl Prairie is set to deliver additional economic growth and jobs for the region, but it halted construction in August to protect the new discovery of the Rusty Patched Bumble Bee.
READ MORE: Environmentalists and Rockford airport officials beg to differ over the Bell Bowl Prairie 
RFD said it's seeking to relocate plants and have even invited the IDNR to come to the Prairie to harvest plants and seeds of state significance. IDNR agreed and is expected to remove for transfer more than five plants on Oct. 28. However, depending on a judge's decision, that could also be put to a halt.
"Picking up a shard and hoping that you are going to have the same thing, you're not," said Leigh. It's just saving a couple plants. To me, that's total failure."
An Action Alert, which are letters sent to local and state leaders and lawmakers, was created by the Illinois Environmental Council. As of Tuesday, it has more than 6,000 actions.
The airport said it worked diligently with resource agencies to avoid detrimental impacts to endangered species and plants.
13 WREX has reached out to the airport for a comment on the lawsuit.