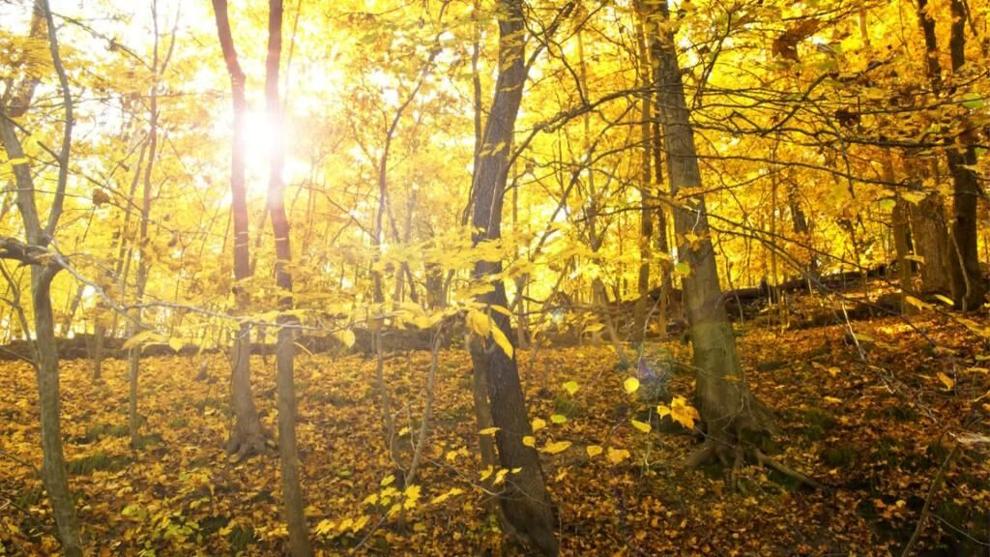 SEWARD (WREX) — It hasn't really felt like fall lately, but it's about to look like it at Seward Bluffs Forest Preserve. The land is about to undergo a major transformation.
"It's a little too warm for my comfort," said Forest Preserves of Winnebago County Communications Coordinator Samantha Crooks.
"I'm waiting for the first real frosty morning to kind of make it really feel like fall," said South Area Preserve Manager Scott Wallace. 
Seward Bluffs is one of the top sports for those vibrant transient colors of fall, according to the Forest Preserves of Winnebago County.
"We have 44 forest preserves in the county. Most people are not aware of that. Most people live next to one and aren't even aware of that. I just hope people take the time to really explore and take a look at what we're doing. There's a reason why preserving these lands is so important to us," said Crooks.
Right now the Seward Bluffs is covered in green which is unusual for this time of year. But soon it will evolve into a golden autumn escape.
"The weather this summer has played a role in it. We have had a drought this season which sometimes can delay the fall color and it's been very warm here for the month of September and October," said Wallace. 
The land was purchased by the forest preserves in 1930 with 71 acres. It quickly grew to what is now a whopping 636 acres. It's also one of the three preserves available for both tent and RV campers.
"We do have shelter houses that people can reserve so family picnics if they want to come out, start a bonfire, have some smores," said Crooks. "Then we are still doing camping right now up until Nov. 17."
Wallace says open and protected land like this can serve as a valuable outlet for people to decompress and refocus.
"Seward Bluffs has limestone cliffs or dolomite cliffs and this overlook is at the top of the cliffs so you stand on top and you overlook the whole lower half of the park and the creek that bisects the park," said Wallace. "So it's just a nice area to look down on the trees, you are normally looking up."
Wallace says that overlook is located on the north-end of the property and showcases Grove Creek, tons of maples and tons of hickory trees.
Both Crooks and Wallace says when people explore in their own backyard, they can find a completely different view point and let serenity take top of mind for a little while. 
Wallace says with a few more crispy nights and frosty mornings those colors should really pop. He expects them to be at the peak in another week or two.
After those leaves fall away, more limestone bluffs will appear, making Seward Bluffs a great spot to visit at any season.
For the fall fall color list provided by the Forest Preserves of Winnebago County, click here.