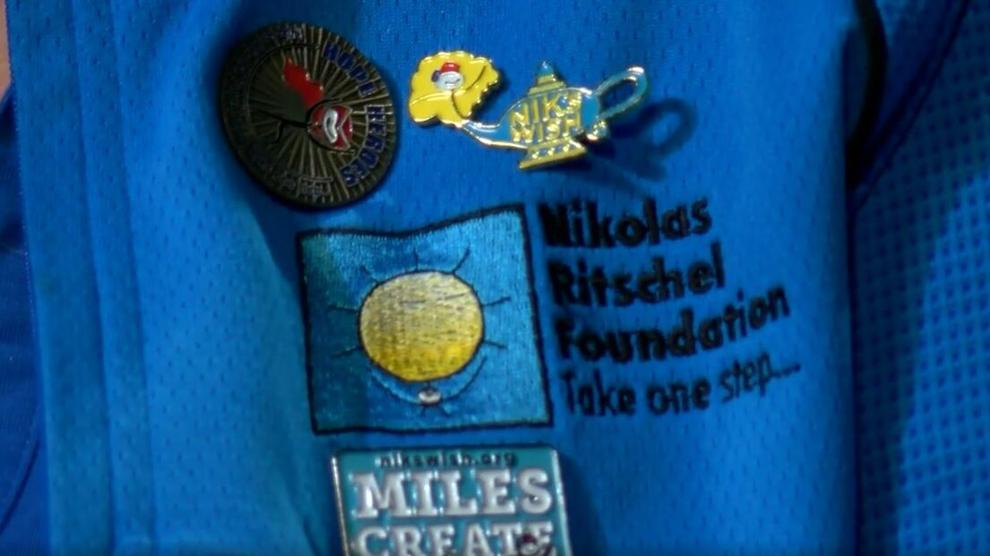 ROCKFORD (WREX) - This weeks Inspiring 815 took a difficult moment in her life, full of despair and pain, and turned it into a mission that has spread joy across the Stateline and the nation to young adults battling cancer.
"You can imagine being 17 years old and getting the news you have cancer, to be outside playing basketball one day and for doctors to tell you have a 20% chance of living the next, it is just absolutely mind blowing," explains Kelli Ritschel, founder of the Nikolas Ritschel Foundation. 
It was Christmas Day 2008 when Nikolas Ritschel was diagnosed with synovial sarcoma, a rare cancer that held tightly around his spine.
"He was a real people person. He wasn't the best scholar in the world but absolutely loved people and he just had a big big heart for people," reminisces Kelli on who Nik was.
Nik was a recipient for the Make-A-Wish foundation, just barely making their cut-off age of 18 to receive a gift.
While at a clinical trial at the National Institute of Health Nik would meet 20-year-old cancer patient Nate.
Unfortunately, Nate was too old for a wish to have ever been granted by the Make-A-Wish foundation.
Kelli retells that story as if it was just yesterday, "That broke Nik's heart, it absolutely broke Nik's heart, I can still, to this day, I can still see him, I can still hear him in my mind, busting through the doors 'mom, mom, we have to do something, Nate missed out on Make-A-Wish, we gotta so something."
Even though not much of poet, the day before a routine bronchoscopy procedure, Nik wrote poems of strength and resiliency.
He didn't know the next day would be his last.
Kelli recounts that tragic day, "The tumor invaded a blood vessel and he bled in the hands of the doctors that morning but his words stuck with me and continued to nag at me."
That day Kelli lost the youngest of her three boys.
Nik's words never escaped her. One day she called her son's oncologist to confirm that there indeed was as a gap in pediatric cancer patients who didn't have wishes to look forward to.
Months later she turned her pain and sorrow into the Nikolas Ritschel Foundation, granting wishes for cancer patients ages 18 to 24.
Kelly explains navigating her first fundraiser, "We raised enough for five wishes and of course the very first wish we did was for Nate, the young man he met and kind of inspired him that he needed to fix this gap."
The foundation helped Kelli redirect her grief, though it was difficult at first delivering wishes.
"I call them on the phone and say I wanted to let you know that your application was approved for your wish, many times they cry because there isn't anything for them, they didn't know there was anything for them," explains Ritschel of all the kids she's had a privelage of delivering good news to.
Kelli says her love for Nik is not gone, she just now gets to show it in a different way.
"When we can show up with the wish lab and just surpirse someone and just blow their mind with yes you got a wish and here it is, its the funnest day ever, i love their expression on their faces," gleefully describes Kelli as one her favorite parts in the whole process.
10 years later and 300 wishes later. Nik's wish has spread joy across 38 states.
A laughing Kelli tell us, "I can see him smiling, probably telling me I told you mom, I told you this was the right thing to do and you were right Nik, you're absolutely right."
The Nikolas Ritschel foundation hosts several fundraising events throughout the year. Their next event will be their annual Shamrock Beer Run set for March 18.
You can find out more about this amazing organization and their yearlong efforts to raise funds to grant all their wishes on their website at: https://nikolasritschelfoundation.org/
or on their Facebook page: https://www.facebook.com/NikolasRitschelFoundation/