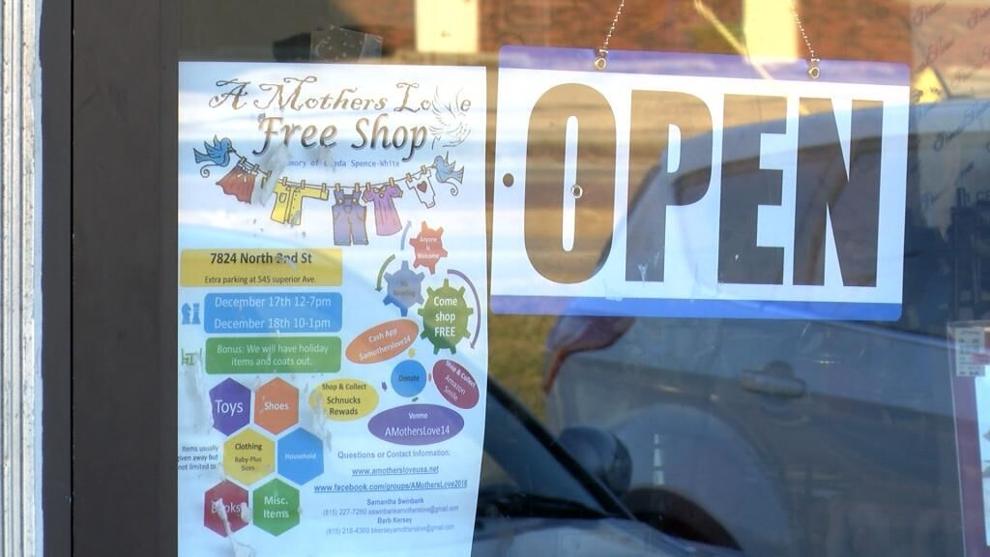 MACHESNEY PARK (WREX) — What started in a Machesney Park driveway is now a full fledged nonprofit serving our community. Volunteers say their living out their dream but need your help to keep it going.
If you need an item, A Mothers Love probably has it. 
"Community gives to us and we give back to the community," said A Mothers Love Board Member Barbara Kersey.
People can walk in and shop for shoes, clothes, household items, toys and more all for free during the shops free shop days.
"This is something close to my heart, very close," said Kersey. "When somebody comes in and gets free stuff especially the kids, especially the kids, it makes you just smile and giggle and have fun with them. The people that lost their home and stuff; they are welcome to come and get what they need. There are fires, we take care of them if we can."
This nonprofit started back in 2014 after the founder, Samantha Swinbank, wanted to give away the large collection her mother had left after she died.
"Samantha always tells me that I had lost my daughter and she lost her adoptive mother and she always tells me them two put us together," laughed Kersey.
It was a match made in heaven. The all-for-free nonprofit quickly grew in donations and moved into its own brick & mortar. But it came with huge hurdles: rent, utilities and upkeep.
"My hope is that we can stay here, we can afford to stay here and we can leave the back open for free stuff all the time," said Kersey when asked what she hopes for the future at the new location.
"Sometimes when you see that need you're supposed to be that person to step in and fill it and that's what we're trying to do," said volunteer Deborah Bryant.
The store has a thrift shop in the front. It sells a variety of items for a couple bucks. Kersey says it helps put a dent in the bills but sponsors, donations and volunteers are in critical need. Bryant says she had more than 150 people submit requests.
"If you go to our website we have an 'In Search Of' list. People put their greatest needs on there. So like, 'I need a 4-T children's coat' or the microwave or one lady just moved down here with just the clothes on her back. You have clothes and Christmas gifts," said Bryant.
"Whatever we can do, we're here for them," said Kersey stressing that she welcomes all who are in need to come.
Hoping to put a little love out into our community so our neighbors can get on their feet.
The first free shop days at A Mothers Love's new location is Friday 12-7 and Saturday 10-1 at 7824 North 2nd Street in Machesney Park. There will be Christmas and normal raffle gifts and the thrift shop will be open. 
Donations can be collected anytime the shop is open.
If you would like to make a donation, monetary or supply items, or if you are interested in sponsorship contact Samantha Swinbank at sswinbankamotherslove@gmail.com. If you would like more information on how to volunteer, what to donate and what events are coming up contact Barb Kersey at bkerseyamotherslove@gmail.com.